Thursday, February 28, 2008
*troubled!*
++ quoth
dragonfly
at
3:32 AM
---
Wednesday, February 27, 2008
Hello!..

I had a fun day today..=) firstly, in the morning i had a tutorial discussion in Eusoff Hall with my group mates from my International Security module. That was pretty okay, and after which i stayed in school to finish my essay which was actually way overdue!..as i was walking to submit the essay, i bumped into another Political Science tutor / lecturer, and we had a chat about blades!!...talked about kris's, about japanese swords, etc. Glad that i know of 2 excellent Lecturers who are blade-afficandos as well!.
After i submitted my essay, i rushed off to meet xuening and her friends for lunch at Dover Market. It was a pretty fun event. Thanks for the "Honeydew Milk Tea" treat!!..haha..it was the first time i tried this flavour..to tell the tRUTH, it was quite nice..haha...well, Paul joined us later..and Jaime went like bonkers..haha..i even smsed Xuening saying "Jaymie keeps staring at paul..haha"..well, i just hope Jaime didn't scare Paul..haha..but well, i thoroughly enjoyed the lunch session today. Xuening's friends seem friendlier now too, i guess it's because i've met them a couple of times, so not so much of strangers now..well, see you guys at lunch on Friday again!..
And finally, I just bought another knife..haha...ain't that cool?..Here's what's coming in from a Japanese knifemaker whose artist name is Kansei Matsuno. Here's 2 pictures of the knife..I can't wait till it arrives!!
++ quoth
dragonfly
at
6:37 AM
---
Monday, February 25, 2008
A short update on the weekend that just passed by!..Went for the Singapore Airshow yesterday with Elisha, Jabez & Paul, and it was a cool show!..haha..i really enjoyed it, and we managed to catch a little bit of the flying display..heading inside, we saw some cool planes..like the JSF, the B1B, the F15SE, the AH-64D, the Global Hawk, etc...here are some pictures of the stuff we saw there..
First up, here's a funky picture of the 3 of them...Paul was caught by the camera just as he was trying to "bump" Jabez..haha..I love this picture!
Here's the JSF
The AH-64D


The Global Hawk
Guess what this is:
For those who know what this is, and what it represents, please keep it to yourself.
The Triad Leader
The Other Triad Leader
The PSP'er
++ quoth
dragonfly
at
2:02 AM
---
Friday, February 22, 2008
Hello!...

Well, here's a little blog-update on my life..or rather, just yesterday. Well, after school, a group of us went out to celebrate Xuening's birthday. There was Lynn, Yingyu, Binglun, Aaron, Weizhen, Xuening, and me. We went to quite a few places, had lunch at Meridien foodcourt (KOREAN!!), then we went over to Plaza Singapura Arcade, where Weizhen displayed her amazing talent for "Kung1 Fu1 Guan4 Lan2"!...gosh...i never knew she was so damn zai at basketball...*faints*...haha...after that, Weizhen left for her singing classes, and the rest of us adjourned to walk towards The Cathay, with the intention of going to the Band & Jelly's for a chillout session...and on the way, we had this "tour" up this humoungous and never-ending flight of stairs up Mount Sophia!...*edited to add: EXCEPT LYNN*...haha...

*Here's a pic of yesterday's lunch group..I'm behind the Camera..duh!



After the "tour de la 'stairs'", we then went to cathay, where we bumped into Joyce (p.s: this was the second consecutive time binglun & lynn had bumped into her at the same place, with the same company...played card games, and then we left...and now i have 2 of xuening's phones with me, because she played with the security code on her phone, and it got locked. I managed to hack both the passwords using a skeleton passkey, ain't tt cool?..haha...

*Collection of Nokias*...2 are Xuening's...the rest are some of mine...

*these are Xn's..


Oh, and here's some pictures of the present i made for Xn's birthday. Not pictured here is the sheath though.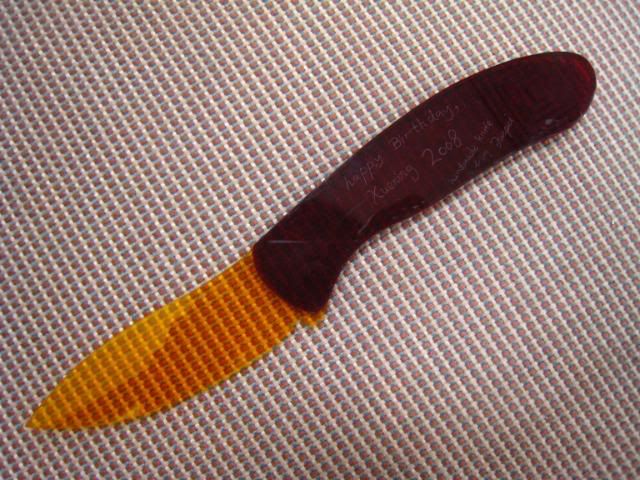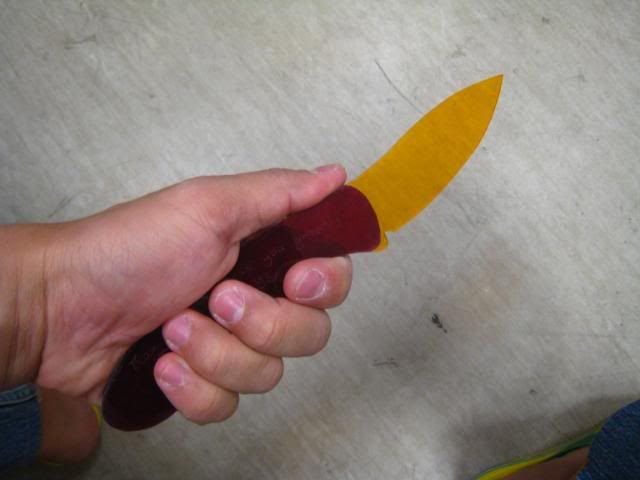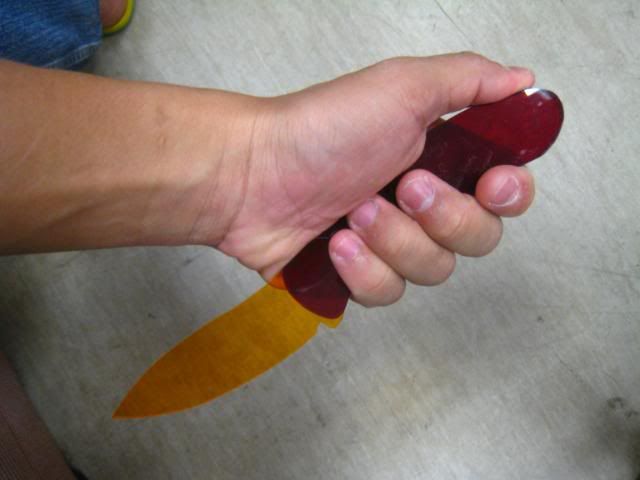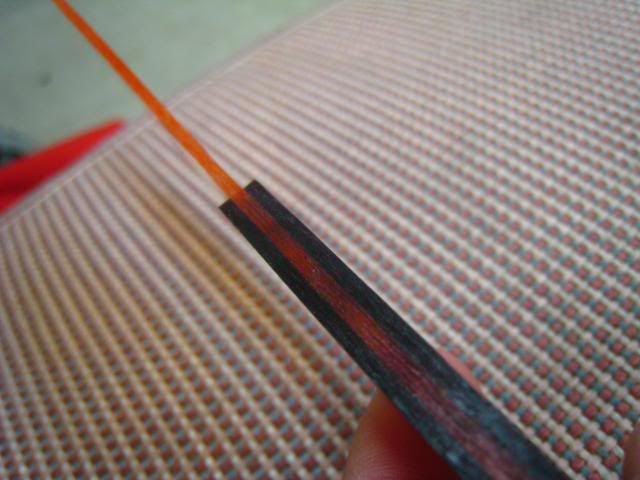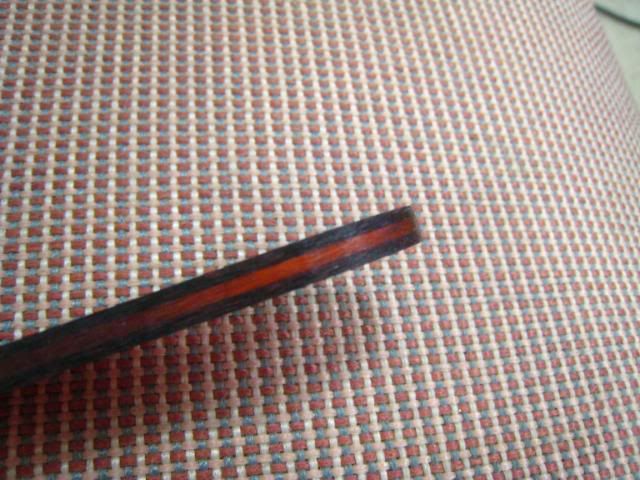 Cheers and Regards,
Nick
++ quoth
dragonfly
at
6:17 PM
---
Monday, February 18, 2008
Woohoo!!...my J.W. Smith folder came already, and i'm impressed, to say the least!..it's larger than i thought it would be, and that's awesome, because i was worried initially that it would be too small. Feels hefty in the hand, and the fit and finish is excellent!. Blade is perfectly centred too!.
I think this trade was a good one!. Initially i was still wondering if i got the lesser end of the trade, but now i think i got the better end of it! Here are some pictures of the knife i'm talking about, and i like it very much!..Thanks Ossian!
here's a pic of the knife opened. check out the polished damascus!!

a pic of the folder closed!
a pic of the internal filework, together with jeweled liners
a picture of the spine of the knife

and finally, check out the hand-filed Gold backspacer!!!
Cheers and Regards,
dragonfly
++ quoth
dragonfly
at
4:34 PM
---
Friday, February 15, 2008
I'm excited!...i saw some filings done to an S.R. Johnson folder, and i asked Steve if he would do those for my knife, and how much it would cost, and Steve was so nice, he said he would do it for me, with no increase in the price!.. WOW!..
Secondly, here's another knife i'm bringing in..(i know i've been getting tons of knives...but still...) Haha..this is a TMX folder direct from Custom Knife maker Tom Mayo. Can't wait till i see it when it comes!!..Here's a pic to show you what i'm talking about:
Oh wells, that somewhat sums up what i have to say for now..haha..going over to jam with the 3 brothers!..
++ quoth
dragonfly
at
1:02 AM
---
Sunday, February 10, 2008
Got 2 of my new knives today!..Check these out.. First up, here's my C. J. Smith folder:
Steel + Carbon Fibre + Titanium = AWESOME knife

The CJS knife when Open

CJS = C. J. Smith, the knifemaker

Clipside Picture

Next up..here's my Emerson Collectors Associan (ECA) Persian!! Serial Numbered at 079. Just got it today! Thanks!
Half Deployed

So sharp it would cut your Computer Screen!
My new friend from Persia
My Persian Friend at Rest
Cheers and Regards,
Dragonfly!
++ quoth
dragonfly
at
7:08 AM
---
Friday, February 08, 2008
Oh,

I JUST! bought another new knife. Here it is: a J.W. Smith one-off piece, with Damascus, Stag, Gold backspacer that has been fileworked!! Can't wait for it to come from Russia!
WOW!..here's a picture:
Cheers and Regards,
Nick
++ quoth
dragonfly
at
8:23 AM
---
Thursday, February 07, 2008
Hello!...
A very happy Chinese New Year to all my friends...hmm..this year was pretty good, recieved something like half a grand in Ang Pows, and this money shall go towards funding my upcoming knife purchases. I have almost US$20,ooo+ worth of blades coming in this first half of the year alone, and thus i have to save up to pay for them. Putting some of my own pieces from my collection for sale too!...Here's some pictures of the few knives which are coming the soonest:
First up, here's a custom Folding Hunter by Custom Knifemaker Bob Dozier in A2 steel, and Ivory handles.
Next up, here's a Bolstered CQC-9 folder by Custom Knifemaker Ernest Emerson(Ernie)
Next up, we have a picture of something similar to a folder I ordered from one of the top Knifemakers in the World, S.R. Johnson(Steve)
And here's a "Work-In-Progress" picture of how the knife pictured above looks like now. Thanks Steve!
Here, I also have a picture of a special folder which i have coming in, on order something similar to this, made by reknowned Knifemaker Michael Walker, and engraved by his wife Patricia Walker.
Last but not least, I also have incoming an Emerson Collectors' Association Limited Edition ECA Persian folder. It features a hand-ground Zero-Edged Blade, with a Production body.

I also have a C.R. Smith folder incoming, but I don't have any pictures of that piece, so i'll leave that till another time.
Well, moving on..today was a fun day!. in the morning, i woke up when Paul called me at 5:59am, and got washed up, and went to pick the kids up at 8:30++. My mum was very nice, and she gladly became our transport-provider!. =) (Thanks!). Well, we went over to East Coast park, where we cycled for about 2 hours, inclusive of our pitstops at the Hawker Centre, and it was quite fun. After which, my mum fetched the kids and I back to their house, where the kids got off as they had some programme on after that.
After dropping the kids, i headed home for lunch, and from post-lunch till now, i've been slacking, playing with my PSP, and waiting for some confirmation on whether tonight some of my church frens are onz for a movie (preferably Rambo 4)...haha...i think i'm gonna rest. Blogged quite a lot today!
Cheers and Regards,
Dragonfly